Signs for the times in Sumter
One of the high points of 2019 so far has been watching the installation of the first phase of wayfinding signs in downtown Sumter, SC.
JMTE has been a part of this project since it began in 2016. We partnered with Arnett Muldrow & Associates to develop a Wayfinding Master Plan for the City of Sumter, and now we're excited to be working with city officials to implement that plan.
The first phase focused on pedestrian wayfinding signs in the Historic Downtown area of Sumter. These signs direct visitors to popular destinations and public parking within the downtown area. Phase one also included updating the signage at downtown public parking lots.
The next phase of the project will include the installation of gateway signs to welcome people to Sumter County and to the City of Sumter. The final two phases will consist of the vehicular wayfinding signs that will direct drivers to popular destinations throughout Sumter County.
JMTE has also been working with sign fabricators and managing the installation process.
"We've found that using a hands-on approach with fabricators and structural engineers often improves cost estimation for the City and the overall quality of the final product" said Candace Hladick, a JMTE planning technician and project manager for the Sumter wayfinding project.
Our work with the South Carolina Department of Transportation (SCDOT) is another essential element of this project. Once completed, Sumter's Wayfinding sign system will consist of over 120 signs along dozens of roadways throughout Sumter County. Each aspect of the sign and location must meet all MUTCD and Federal Highway regulations and be approved and permitted by SCDOT.
JMTE is proud to be working with the City of Sumter to manage this important project. We believe wayfinding is an excellent way for communities to create a strong sense of identity, while improving familiarity with destinations that deserve to be explored by citizens and visitors alike.
"It has been a pleasure working with Sumter to bring their Wayfinding Master Plan to life," Candace said.  The project is expected to be completed by September 2019. For more information on JMTE wayfinding services, give us a call at 828.456.8383 or 
contact Candace directly by email
.
One of the first tasks of a new employee at JMTE is getting trained as a Qualified Work Zone Flagger. Above, Transportation Safety Engineer Jim Kellenberger trains new staff last year. In 2018, the JMTE Academy trained and certified 959 people in work zone safety, flagging and flagging instruction in North and South Carolina and Virginia.
Nine years of fun and still moving forward
We celebrated JMTE's ninth birthday this week by doing something we've always done well – preparing (and consuming) a feast. On the menu was macaroni and cheese, and lots of it, in honor of our owner and founder Mark Teague. Staff members brought spicy mac n' cheese, multiple-cheese mac n' cheese and family favorite mac n' cheese, from recipes handed down through generations. And salads, lots of salads. A fun time was had by all.
Fun is a recurring theme at JMTE and it's been that way from the beginning. In the past nine years, we've had fun working on hundreds of traffic and transportation projects mostly in the Southeast, but as far away as Texas and Alaska. We've had fun developing relationships with the best civil engineers, developers, attorneys, and local governments around, partnering and problem-solving through all kinds of unique and challenging community situations.
J.M. Teague Engineering and Planning began on March 1, 2010 in the back of Fun Things, Etc., a toy store in downtown Waynesville, NC, that was owned and operated by Mark's wife Denise. The firm was conceived by Mark, who'd spent the previous 18 years as an engineer for the North Carolina Department of Transportation. That background with NCDOT was instrumental in helping JMTE get going. Many of our first clients were folks Mark met in the Waynesville community, or even the toy store, who needed help obtaining a driveway permit or navigating NCDOT requirements.
As word began to spread about us, we focused on providing traffic engineering to local governments under 10,000 population, small businesses, schools, community colleges and community associations. Our initial service area encompassed roughly 30 counties west of Interstate 77 in North Carolina. Today our network extends throughout the Southeast and we provide more than 20 transportation and traffic-related services across eight distinct business areas: Forensic Engineering; Transportation, Bicycle and Pedestrian Planning; Land Use and Community Planning; Wayfinding and Mapping; Education and Training; Facilitation and Collaboration; Traffic Engineering and GIS and Infrastructure Assessment.
We've been fortunate enough to grow steadily. In mid-2010, we hired our first employee other than Mark, who worked part-time to assist with field data collection. In 2011, we added another data technician, a part-time office assistant and we got our first forensic case. By 2012, we'd outgrown the toy store space, so we moved to a larger office space, and we hired an additional engineer. Now we have a staff of 18 and are continuing to grow.
These days, in order to keep staff members in the loop about things, Mark sends out a group email about the past week's activities and what lies ahead in the coming week. Sometimes it arrives early Friday evening, sometimes around 10 p.m. It usually begins by acknowledging what a whirlwind week it has been and ends with a reminder to hold onto our hats for another wild ride starting Monday. But just like a mac n' cheese feast, wild rides are fun, too. We love the challenges and the opportunities that spring from the work we do, and the folks we get to work with. You never know who you're going to meet or what they are going to mean to you.
We learned that lesson early, while it was still just Mark working out of the toy store. One of the activities Denise set up to engage her customers involved attempting to shoot a flying monkey toy through a hula hoop. One day, a gentleman named Dave Gildersleeve came in the store and tried his hand at the game. Today, several years later, Dave is our business developer and the newest member of the JMTE team. Small world, huh.
It's been a great nine years and we thank everyone in our network for being a part of it. One of these days, you should come over and celebrate with us. There's plenty of feast to share.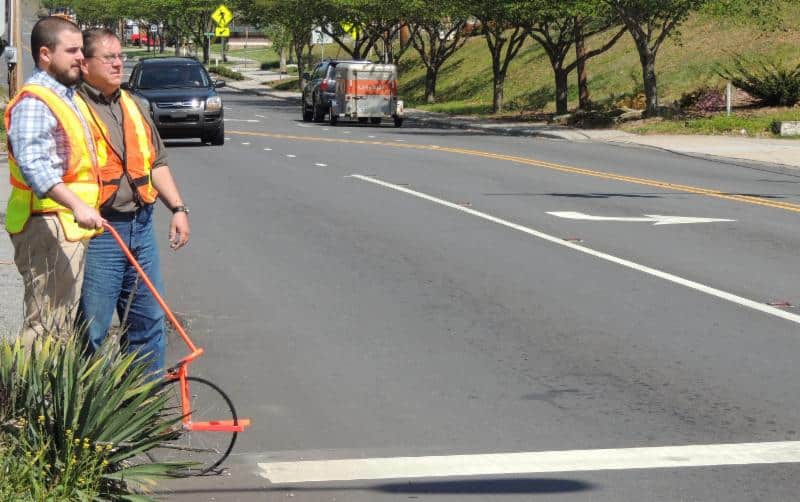 The last nine years at JMTE have been filled with adventure. We've been privileged to interact with communities on hundreds of challenging traffic and transportation projects; we celebrated the Great American Total Solar Eclipse together after helping several western NC towns plan for the influx of traffic; and we've donned costumes and jumped into freezing water to raise funds for environmental education for kids. We look forward to continuing the adventure for the rest of 2019 and beyond.
JMTE staff make their mark in community.
Hladick named Vice President of WTS Western NC chapter
Candace Hladick, JMTE's Geospatial Specialist and Planning Technician, has been named Vice President of the Western North Carolina chapter of WTS International, an organization dedicated to supporting professional development, encouragement, recognition, and advancement for women in transportation professions.
WTS, which stands for Women's Transportation Seminar, has more than 6,500 members and 79 chapters in the U.S., Canada, and the United Kingdom. The Western NC chapter is one of two in North Carolina and Candace has been a member of the board of directors since it's a formation in 2014. In addition to her new role as Vice President, she currently holds the sponsorship chair and has served in the past as the chapter Secretary.
Since joining JMTE in 2012, Candace has designed geospatial maps to accompany pavement condition surveys, bicycle-pedestrian, and ADA transition plans. She also uses AutoCAD to draft intersection improvements, corridor studies, roundabout, and parking designs, traffic movement data, signal plans, and complete street designs. In addition, she spearheads wayfinding projects for JMTE.
Candace is a 2012 honors graduate of Haywood Community College, with an AAS degree in Low Impact Development and a certificate in LID – GIS Specialist. These programs included a focus on geospatial technologies, soils, hydrology, stormwater treatment, land planning, site analysis, site development, drafting, and environmental regulations.
Armstrong named to Asheville greenway committee
Kenny Armstrong, a transportation planner at JMTE, was recently named to the City of Asheville Greenway Committee.
The purpose of this Greenway Committee is to advise Asheville's Multimodal Transportation Commission and City staff on implementation of a system of greenways within Asheville by integrating City and County Parks and Transportation plans, educating and engaging the public and advocating for funding. Kenny's term of office is three years.
As JMTE's Transportation Planner, Kenny focuses on multimodal transportation, wayfinding sign design, system planning that prioritizes accessibility and safety, and strategic prioritization of land use. He has worked in municipal administration and on the county government level and is an active volunteer in his community.
To learn more about Asheville's Greenway Committee, 
visit their website
, or contact Kenny at 828.456.8383
Sexton joins neighborhood committee, multimodal commission
Anna Sexton, JMTE's Community Planner, was recently appointed to serve on two City of Asheville's committees, the Neighborhood Advisory and the Multimodal Transportation Committees.
This Neighborhood Advisory Committee (NAC) is appointed by the Asheville City Council, with representation from specific community sectors. The committee was established to advise the city council on neighborhoods within the City's zoning and planning jurisdiction, to help strengthen neighborhood identity and resilience, and foster communication and cooperation between Asheville's neighborhoods and City offices.
Anna also serves on the City's Multimodal Transportation Commission as a representative of the NAC. This commission brings expertise and interest various modes of transportation, including transit, greenways, automobiles, bikes, pedestrians and more; and assists the City in the development of multimodal transportation by recommending polices, promoting the development of best practices as it relates to education about multimodal transportation, and other activities.
Anna, who serves as JMTE's Community Planner, recently received her Master of Public Policy degree from the Georgia State University Andrew Young School of Policy Studies in Atlanta. Her responsibilities include assisting with and leading a variety of planning projects. Since joining JMTE, she has worked on the development of a countywide wayfinding master plan, assisted with drafting a city-wide Complete Streets policy; and co-authored the transportation chapter for a town's updated strategic vision plan.
Closing Note: Test your driving knowledge
Q: What is the recommended hand placement on a steering wheel?
We bet you thought you knew this one, but if it's been a while since you took drivers ed, the answer has changed. Thanks to airbags and changes in steering technology, traffic safety officials (AAA, NHTSA, DMV) say drivers should hold the wheel at a "9 and 3" position instead. Some driving instructors still teach the old method of "10 and two", but is no longer the standard recommendation. (Graphic courtesy of Popular Mechanics)