J. Mark Teague, PE, embarked on his "great adventure" in 2010 when he started J.M. Teague Engineering & Planning (JMTE) in the back of his wife's toy store in downtown Waynesville, North Carolina. Prior to founding JMTE, Mark spent 13 years as a transportation engineer manager with the North Carolina Department of Transportation (NCDOT). He drew from the strong relationships he built throughout Western North Carolina and his extensive experience in project development and management to solve problems for clients while establishing his business. With an understanding of roadway maintenance and safety programs, transportation planning workflow, and the traffic impacts of new development proposals, Mark established JMTE as the region's only locally owned and operated transportation engineering and planning firm.
J.M. Teague Engineering recently celebrated its 13th anniversary. Mark and our team look forward to many more years serving our clients and the exciting opportunities waiting around the bend on this great adventure.
To learn more about us and our history, click the link below.
One of J. M. Teague Engineering and Planning's valued clients, Lane Construction, is one of America's leading heavy civil construction companies. They specialize in highways, bridges, tunnels, mass transit, and airport systems.
Over the past decade, they have been a national leader in design-build and public-private partnership (P3) methods of project delivery. They are committed to partnering with agencies, investors, and the public in developing win-win solutions for incredibly complex transportation initiatives.
Their expertise lies in construction project management, engineering, and procurement. They provide resources and innovative solutions, emphasizing safety and quality control, which produce high-quality results. 
Lane Construction provides a safe and rewarding working environment for talented and creative employees. J.M. Teague Engineering and Planning has teamed up with Lane Construction to provide first-rate education and training to their employees at our Work Zone Academy. So far, our Work Zone Academy has trained 57+ work zone flaggers, 56+ work zone installers, and 35+ work zone supervisors, along with 2 work zone flagger instructors and 3 work zone installer instructors for Lane Construction. J.M. Teague Engineering and Planning is proud to offer NCDOT-approved training and certifications in Work Zone Safety. We will do our best to ensure all work zone employees get home safely every day.
To learn more about Lane Construction, click the link below.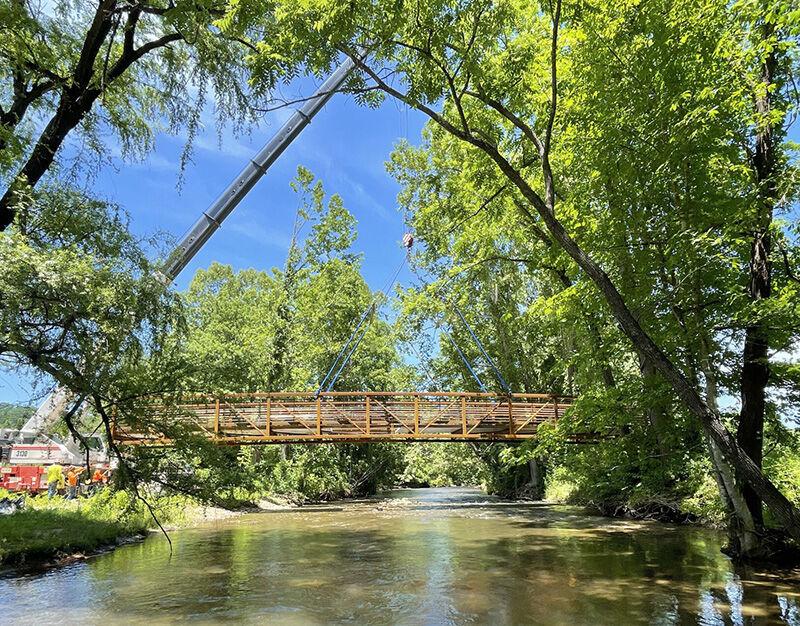 Bridging The Gap
A 100-foot-long steel bridge was recently lowered into place by a crane over Richland Creek in Waynesville. The bridge sets the stage for the greenway expansion connecting Waynesville and Lake Junaluska. The Town of Waynesville held a public dedication of the new bridge on March 30, 2023.
The $440,000 bridge project provides a critical missing link to eventually expanding the Waynesville Greenway to Lake Junaluska. For now, the bridge will unlock access to a new nine-acre tract on the other side of the creek.
With the bridge now in place, the Town will begin constructing recreation amenities on the track across the creek, including a walking trail loop with outdoor exercise equipment, picnic areas, fishing access points, and multiuse greenspace.
J. M. Teague Engineering had a hand in this project, not the bridge, but part of the greenway project beyond the bridge. We are thankful for this beautiful addition to our community that paved the path to the greenway and the recreational amenities still to come.  
For more information, read the article posted in "The Mountaineer" newspaper below.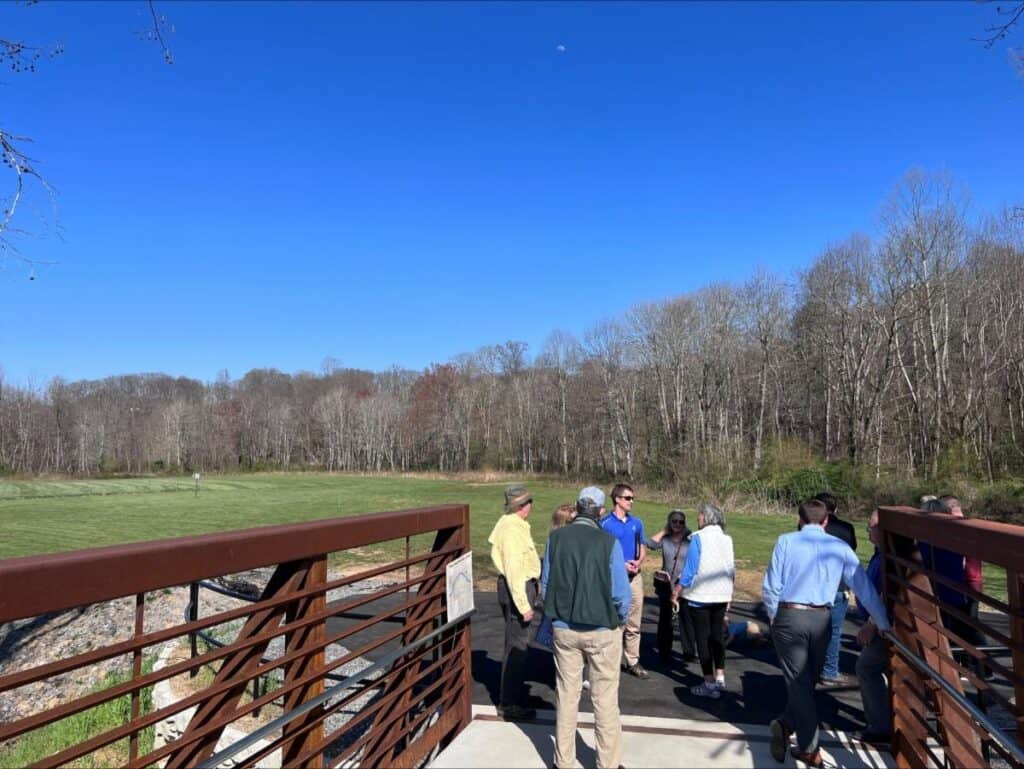 Outdoor Equity Funding Project
Outdoor Equity Fund empowers community-led initiatives that address identified barriers to outdoor recreation access and opportunity. MADE X MTNS (Made by Mountains) has established a $125,000 Outdoor Equity Fund to help close these gaps in Western North Carolina. This partnership is working on expanding the outdoor industry and economy across North Carolina's Appalachian region and utilizing rural development by building vibrant outdoor communities, growing outdoor businesses, and outdoor culture.
J.M. Teague Engineering is serving in a dual role for this project. Members of our team are on the Haywood County planning team and a consulting vendor approved by the Appalachian Regional Commission. We proudly serve to create outdoor infrastructure for the 25 Western North Carolina counties. 
Click below to learn more about the Outdoor Equity Funding project.
Powell Bill Time of year, let J.M. Teague Engineering and Planning be your Dream Team.

Now is the time to update your Powell Bill map!
It is never too early to think about your municipal Powell Bill map.
Has it been 5 years since your map was updated?
Are there changes to the roadway, or were roads widened to 16 feet?
Do you have newly paved roads or a recently added subdivision?
Powell Bill funds are used primarily for resurfacing streets within the municipality's corporate limits. They can also help pay for construction, improvements, repairs, and maintenance of any street or public thoroughfare, including bridges, drainage systems, and curbs and gutters, as well as the planning, construction, and maintenance of bikeways, greenways, or sidewalks. 
Since the State Street Program was established in 1951, each municipality has established its eligibility annually by submitting a Certified Statement, Street Listing, and a Certified Powell Bill Map to the North Carolina Department of Transportation (NCDOT). The map is required if changes have been made to the municipalities' corporate limits or the municipally owned roadways. Even if no changes have been made, a certified map is still due every five years. Each municipality must also submit a financial statement of expenditures and revenues for the preceding fiscal year. NCDOT then uses Powell Bill maps to reimburse roadway maintenance expenses to local governments.
What is a Traffic Impact Analysis?
A Traffic Impact Analysis (TIA) is a document prepared by qualified traffic engineering firms that assess the potential effects of a proposed development on the surrounding roadway network. 
A Traffic Impact Analysis will typically consider factors such as:
Traffic volume
Speed
Turning movements
Possible pedestrian and bicycle activity
Local governments, such as towns, cities, counties, and states, are all responsible for ensuring public health, safety, and welfare. For new development, redevelopment, and rezoning projects, these responsibilities are managed through various planning and engineering review processes, including reviewing potential traffic impacts. New Developments will generate additional vehicles on the roadways, so a TIA must be conducted.
A Traffic Impact Analysis provides the review of the following:
Existing conditions
The proposed development, site access, and circulation of traffic
The effects of new trips on the roadways and intersections caused by potential new developments.
At J.M. Teague Engineering, we prepare a lot of Traffic Impact Analysis reports for our clients. It is essential at JMTE that we build and sustain strong client relationships through communication, advocacy, innovative solutions, on-time delivery, quality control, and project follow-up.