Now is the time to update your Powell Bill map!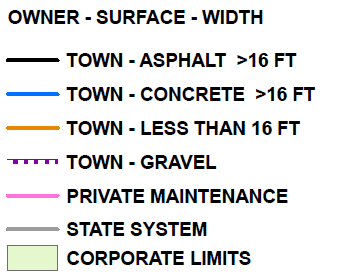 It is never too early to think about your municipal Powell Bill map.
Has it been 5 years since your map was updated?
Are there changes to the roadway or were roads widened to 16 feet?
Do you have newly paved roads or a recently added subdivision?
Powell Bill funds are to used primarily for the resurfacing of streets within the corporate limits of the municipality but can also help pay for construction, improvements, repairs, and maintenance of any street or public thoroughfare, including bridges, drainage systems, and curb and gutter, as well as the planning, construction and maintenance of bikeways, greenways or sidewalks. 
Since the State Street Program was established in 1951, each municipality establishes its eligibility annually by submitting a Certified Statement, Street Listing, and a Certified Powell Bill Map to the North Carolina Department of Transportation (NCDOT). The map is required if changes have been made to the municipalities' corporate limits or the municipally-owned roadways. Even if no changes have been made, a certified map is still due every five years. Each municipality is also statutorily required to submit a financial statement of expenditures and revenues for the preceding fiscal year. Powell Bill maps are then used by NCDOT to reimburse roadway maintenance expenses to local governments.
J.M. Teague Engineering & Planning (JMTE) has a long history of assisting local governments with Powell Bill Fund planning and engineering. Our work starts with an onsite review of all municipally-owned and Powell Bill eligible roadways. Our mapping work will include the verification of ownership, street name, width, length and surface type with an onsite geospatial survey of both new and existing town-owned roadways. An updated Powell Bill map and certified statement will be completed and sealed by a Professional Engineer for submission to the North Carolina Partner Connect website by the municipality.
For assistance with your Powell Bill maps or if you have questions about the state requirements contact our Senior Planning Technician (and GIS mapping specialist) Candace Hladick at 828.452.8383 or 
candace.hladick@jmteagueengineering.com
.