We Be Rollin Rollin Rollin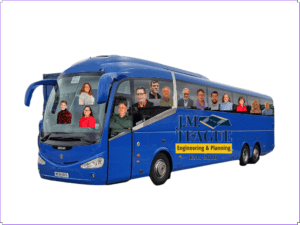 As of today, April 1, 2022, J.M. Teague Engineering & Planning will establish a nationwide rolling office. Mark Teague, Owner, has refurbished a traveling bus to bring Transportation Engineering and Planning to the highways and byways of the United States of America. Mr. Teague was quoted as saying, "No longer will J.M. Teague Engineering & Planning be limited to our four-walled offices at 1155 N. Main St. in Waynesville, NC, but now we will be right in your town… at some point, as we drive all over this country. …. excluding Alaska, Hawaii, and Kansas, (just because)." He went on to say, "our employees are excited to see the country from our new bus and experience what America has to offer, especially BBQ!!" One leading employee was heard saying, "I'm not using that bathroom!!!". The roadshow begins!!!
Just kidding ………………Happy April Fools Day!