JMTE helps officials prepare for eclipse watchers
At J.M. Teague Engineering and Planning, one of the things we love about being traffic engineers and planners is that we sometimes get to be part of exciting events, like the upcoming Great American Total Solar Eclipse.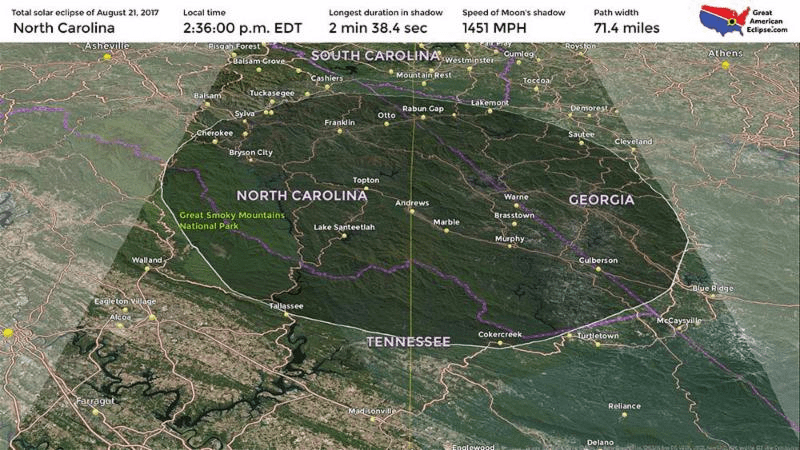 Since the western half of the Great Smoky Mountains National Park is in the path of totality for viewing the eclipse, JMTE has been proud to assist NCDOT by providing traffic counts and other information for various areas in western North Carolina to help them plan for traffic flow.
As awesome as the Monday, August 21st alignment of the Sun, Earth and Moon could turn out to be, transportation officials across the nation are preparing for possibly the worst traffic jams in modern history. Eclipse cartographer Michael Zeiler, curator of the recently-launched 
Great American Eclipse website
, described it this way:
"Imagine 20 Woodstock festivals occurring simultaneously across the nation," Zeiler said. He estimates that between 1.85 million and 7.4 million people may commute into areas along the path of totality.
State and local departments of transportation have been planning for the eclipse for more than a year. The Office of Operations of the U.S. Department of Transportation (USDOT) has 
issued a fact sheet
 on the potential effects the eclipse may have on roadways nationwide, especially in the 14 states that the moon's dark shadow will touch. 
The Federal Highway Administration is advising travelers to be at their observation location at least a couple of hours before totality and to realize that local DOTs and law enforcement may take several actions to coordinate traffic flow, including instituting roadblocks or other measures to keep people from making illegal turns as they drive around looking for a spot as eclipse totality nears. The FHA also urges travelers to anticipate that traffic departure after the eclipse may be more compressed than at other events because there will be nothing else to see afterwards.
Of course, that's certainly not the case if you're heading to the Park, or one of the beautiful mountain communities that surround it. Why not spend the whole day exploring? To stay up to date on eclipse activities around Great Smoky Mountain National Park, visit their 
2017 Solar Eclipse website
.
JMTE hopes you have a safe and wonderful eclipse adventure on August 21st!
Interesting Facts about the Great American Solar Eclipse
You know we love fun facts of all kinds at JMTE, particularly if they relate to transportation. Here's a few of our favorites about the eclipse:
About 12 million people already live within the totality path, but as many as 200 million people live within one day's drive of it. That's nearly two-thirds of the total U.S. population.
Totality crosses only through the U.S., no other country. That's why it's been called the Great American Eclipse.
The U.S. witnessed the last total eclipse on February 26, 1979, and much of the country got to see it, just like this year. But for most of the greater St. Louis area, a total eclipse hasn't occurred since 1442.
More than 500 million people in the US, Canada and Mexico will have opportunity to see at least a partial eclipse.
Nature will take notice of the eclipse, which may lead to some strange experiences. You may notice a resemblance to the onset of night, though not exactly. Shadows may look different and it will likely become very quiet.  Birds will stop chirping, breezes will dissipate, and a 10°-15° F drop in temperature is not unusual.
Your pets probably won't notice. Long-time eclipse watchers say dogs sometimes bark at the sudden darkness, but not in the same way some dogs react to storms and such. Some may react to the excitement of the people around them. Eclipse watchers say cats will be cats.
Can you tell we're excited at JMTE? We look forward to hearing about your Great American Solar Eclipse adventures!