Haywood County Chamber of Commerce awarded us the "2023 Small Business of the Year Award".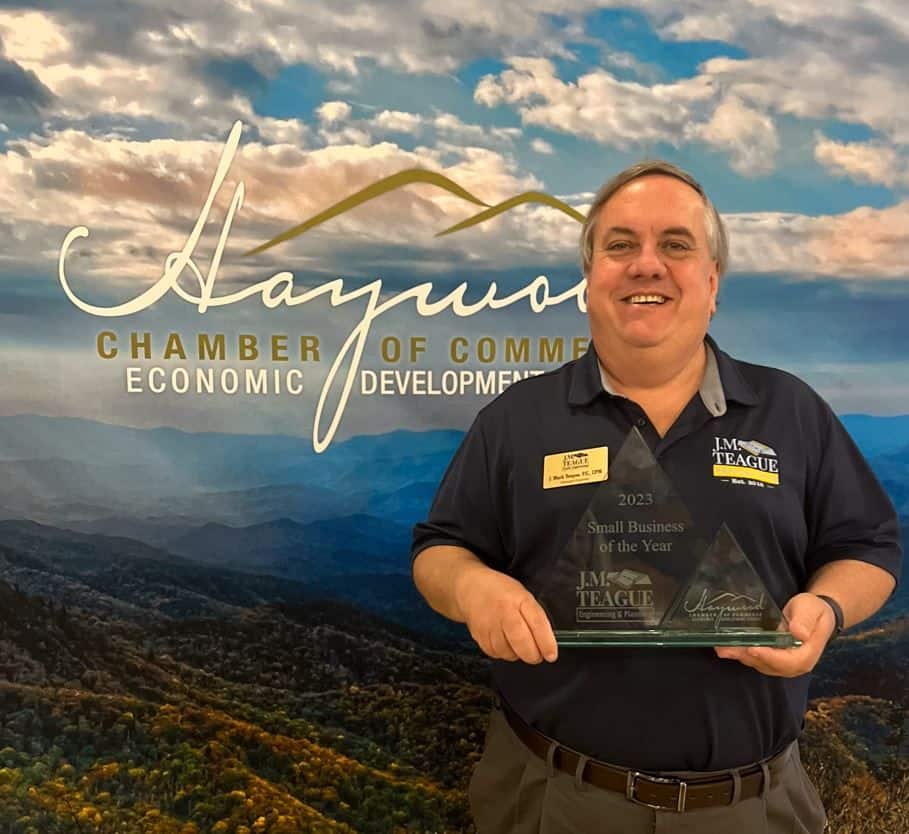 We are committed to continuing to invest in our local community.
Thank you, Haywood County!
We appreciate your support!
Residential Traffic Management
School is almost out for summer, so make safe driving a priority whether you have school-age children or not. Kids who are not in school usually are out in their neighborhoods, around pools, parks, playgrounds, at summer activities or events, vacation attractions, shopping malls, etc… Everyone should expect more foot and bike traffic in neighborhoods and residential areas as children look to take advantage of the warm weather and longer daylight hours. 
Here are some helpful tips:
Drive with your headlights on, even during the day, so children can see you.
Slow down and maintain a 20- to 30-second visual lead to identify unexpected problems.
Scan between parked cars and other objects for indications that children are at play in the area.
Look for clues such as balls and bike ramps that indicate children could be in the area.
Expect the unexpected if there's a chance children could dart into the road.
Make eye contact with children about to cross the street and watch for their next step.
Make sure you look for pedestrians at intersections, not just other vehicles.
The danger to children enjoying summer vacation increases if drivers are distracted by technology, other passengers, tired, or driving too fast, especially in residential areas. 
National Bike and Roll to School Day
Students and parents across North Carolina walked and biked to school Wednesday, May 3, 2023, to celebrate National Bike & Roll to School Day.
National Bike and Roll to School Day is an annual celebration that brings awareness to safe biking, walking, and driving practices near schools and encourages families to consider healthier alternatives to vehicle travel. This was the 12th annual national observation, with 67 registered events in NC.
This year, NCDOT's feature event was in Raleigh. Students, parents, teachers, and state and local officials started their trek at the Food Lion grocery store on Raleigh Blvd. They made their way about a half-mile to the Powell Center for Play and Ingenuity Magnet School on Marlborough Road. 
"Events like this are always a great reminder of the importance of safe walking and biking practices, especially for our children," said Ryan Brumfield, director of the N.C. Department of Transportation's Integrated Mobility Division, which oversees the state's bicycle, pedestrian, and public transportation programs. "We're also excited this week to release an updated Motorists & Bicyclists: Best Practices for Road Safety guide to continue providing resources and education for cyclists of all ages to interact as safely as possible with vehicles and drivers."
The Motorists & Bicyclists: Best Practices for Road Safety guide is intended to educate all roadway users on state laws and best practices for how motorists and bicyclists can safely share the roadway. The report provides multiple scenarios of bicyclist and motorist interactions, such as communicating lane changes, proper lane positioning, passing safely, traveling at safe speeds, and signaling turning movements.
Courtesy of the North Carolina Department of Transportation news release.
Click below to learn more about The Motorist & Bicyclists: Best Practices for Road Safety.


Flatiron is a trusted partner in delivering innovative solutions to infrastructure challenges. Across the U.S. and Canada, Flatiron collaborates with public and private clients to deliver heavy infrastructure – including highways and bridges; aviation, rail, and transit; dams and water treatment facilities; and underground projects. They employ the best people to deliver the best solutions.
Flatiron's skilled craft employees and on-site leaders bring vital expertise and experience to each project. Their industry-leading engineers create innovative solutions to complex issues.
Beyond delivering innovative projects, Flatiron people demonstrate a commitment to safety and sustainability for their clients and the communities where they live and work.
Flatiron provides a safe and rewarding working environment for talented and creative employees. J.M. Teague Engineering and Planning has partnered with Flatiron to provide employees with first-rate education and training at our Work Zone Academy. Our Work Zone Academy has trained more than 60 work zone flaggers, more than 50 work zone installers, and more than 70 work zone supervisors for Flatiron. J.M. Teague Engineering and Planning is proud to offer NCDOT-approved training and certifications in Work Zone Safety. We will do our best to ensure all work zone employees get home safely every day.
To learn more about Flatiron, click the link below.