JMTE assists runners, guests during Waynesville annual half-marathon.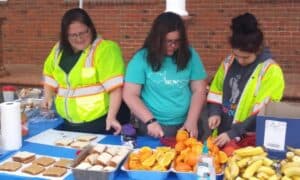 JMTE staff and family members were proud participants in the 4th Annual Gateway to the Smokies Half-Marathon, held Saturday, May 5th in Waynesville, NC. About 130 runners participated in this year's run, whicbegih ns in downtown Waynesville, then continues through neighborhoods and scenic rural areas, finishing up in a revitalized railroad district known as Frog Level. Above, the JMTE team (left) prepares to greet runners and guests; At left, Denise Teague, Amanda Teague and Sierra Perez prepare to provide runners with snacks and water.
From left to right, JMTE team members Mark Teague, Patience Stepp, Denise Teague, Josh Freeman, Amanda Teague, Jon Sears, Corinne Lembo, Sierra Perez, Ricky Pendergrass,Tim Hyatt and Candace Hladick (not pictured).
Think safety for all kinds of wheels this Memorial Day and beyond
In early May, fourth graders at North Canton Elementary School in Canton, NC got an opportunity to ride their bikes at school, learn about bicycle safety and get free bike helmets, thanks to the efforts the NC Highway Patrol, the Active Route to School program, and Bicycle Haywood. The event was part of an annual effort by Haywood County Schools that involves teaching bicycle safety in all elementary schools.
At JMTE, we love to see communities stepping up to promote safety for all of us -young and old – who put wheels on a roadway or pathway almost every day. And May is a good month for drawing attention to safety, not only with all kinds of wheels, but all kinds of drivers too. May has been designated Motorcycle Safety Awareness Month by the National Highway Traffic Safety Administration and National Bicyclist Safety Month by the League of American Bicyclists. In addition, May is also National Youth Traffic Safety Awareness Month, drawing attention to the serious national problem of teenage driving fatalities.
And if that isn't enough, spring is officially here, which means there will be a steady increase in the number of wheels on roadways and pathways through the summer months. Traditionally the spring and summer months have been the most deadly for young drivers. With that in mind, JMTE would like to share the following statistics, tips and links to additional information:
Motorcycles
 In 2015, 4,976 motorcyclists were killed in motor vehicle traffic crashes, an 8% increase from the 4,594 motorcyclists killed in 2014;
57 percent occurred during daylight, compared to 38 percent in the dark, 4 percent during dusk and 1 percent during dawn.
97 percent occurred in cloudy/clear conditions compared to 2 percent in the rain and 1 percent in other conditions;
90 percent occurred on non-interstate roads compared to 10 percent on interstates.
Bicycles (and more)
In 2015, 818 pedalcyclists (bicycles, tricycles and unicycles powered by pedals) were killed in motor vehicle crashes, compared to 729 in 2014. An additional 45,000 pedalcyclists were injured in crashes;
Equal percentages (47%) of pedalcyclist fatalities occurred in daylight crashes as during dark. Four percent of the fatalities occurred during dusk, and the remaining two percent during dawn light conditions;
 Regardless of the season, the highest percentage of pedalcyclist fatalities occurred from 6-9 p.m., with 27 percent in the winter, 18 percent in spring, 20 percent in summer, and 29 percent in fall;
Most pedalcyclist fatalities (61%) occurred at non-intersections, while 3% occurred in bicycle lanes.
Source: National Highway Traffic Safety Administration
Teen Driving
In 2015, 2,333 teens ages 16-19 were killed in the U.S. and 235,845 were treated in emergency rooms for injuries suffered in motor vehicles crashes. [Source: National Highway Traffic Safety Administration]
Distraction was a factor in six out of 10 teen crashes, according to research conducted by the AAA Foundation for Traffic Safety. The most common distractions included interacting with one or more passengers (15%), cell phone use (12%), looking at something inside or outside the vehicle (10% and 9% respectively), singing or moving to music (8%), grooming (6%) and reaching for an object (6%).
According to the National Highway Traffic Safety Administration, Memorial Day is the start of the deadliest time of year for teens on the road. Statistics indicate more than 1,000 young drivers die in traffic accidents during the summer months, compared to 800 deaths during the non-summer months. With that in mind, multiple organizations are working together to promote and improve safety awareness among teen drivers this month and in the months ahead.
Share the Road. Remember, it doesn't only belong to cars and trucks. Motorcyclists and bicyclists have just as much right on the roadway as any other vehicle, so long as they follow their own vehicle-specific rules and regulations.
Be Aware of Your Surroundings. Because of their smaller sizes, motorcyclists and bicyclists can easily be overlooked, especially if they happen to be riding in one of your vehicle's blind spots. Before turning or changing lanes, be sure to signal and look over your shoulder. In most vehicles, that is the only way to check the blind spot that the rear and side mirrors can't spot.
Give Motorcyclists and Bicyclists Plenty of Room. Even though they are smaller in size, it's important to allow bikes and motorcycles enough room to travel safely. Give riders a full lane to drive in even if their vehicles only take up part of a lane. And be sure to allow at least four seconds of space between you and a motorcycle in case you both have to stop suddenly. It's going to take a car that weighs over two tons longer to stop than a half-ton motorcycle!
We wish all our friends and colleagues a safe and happy vacation season!
We are excited to welcome Anna Sexton as the newest member of the JMTE team, Anna is a Transportation Planner who specializes in public policy and finance. She recently received her Master of Public Policy degree from the Georgia State University Andrew Young School of Policy Studies in Atlanta, GA.
While attending Georgia State, she was a Public Finance Fellow at the university's Center for State & Local Finance. Her activities included participating in the Center's partnership with the Volcker Alliance to draft the annual Truth & Integrity in State Budgeting Report; Drafting 26 budget-related responses each for Georgia, Colorado and New Mexico reports; and analyzing transparency in state budgeting practices focusing on disclosure practices, rainy day funds, pensions & OPEBs and municipal securities.
She also served as a Graduate Policy Intern for the DeKalb County Board of Commissioners and as a Graduate Research Assistant for Georgia State University's Public Performance Management Group.
In celebration of good ideas!
Creating shared, sustainable transportation options
In May, JMTE Transportation Planners Kenny Armstrong and Anna Sexton had the opportunity to participate in several regional activities related to shared and sustainable transportation options. In Waynesville and Asheville, they participated in events coordinated by Strive Not To Drive (SNTD), a program formed in 1991 to encourage bicycle commuting in Buncombe County. The Strive Beyond Summit included presentations from national and local experts, who discussed everything from multi-use paths and workforce shuttles to regional and express buses. The goal of the summit was to encourage participants to support aging and working communities to "strive beyond" and leave congestion and combustion behind. A week earlier, Kenny and Anna helped set up a bike rodeo course, pictured here, as part of an effort in Asheville to establish a drop-in-and-use bike course on a vacant city-owned lot in Asheville. In Waynesville, they participated in a walking audit to help assess what's working and not working about downtown's walkability.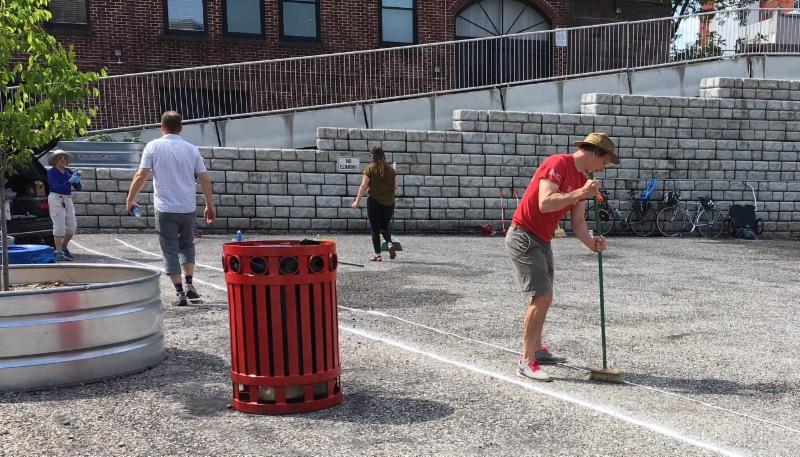 Encouraging Random Acts of Kindness
We don't know the folks in the Pitt County town of Ayden, NC, but we know a good idea when we hear it. In 6, the Ayden Board of Commissioners adopted a new program designed to foster kindness among citizens and recognize those who went out of their way to help others. Since the Random Acts of Kindness program got started, Town Manager Steven Harrell states that the random acts noted ranged from "repairs to our local Food Bank building, meal deliveries to the aged and disabled, volunteerism for community charitable events, to even someone who regularly buys coffee and pastries for others at a local bakery shop." Congratulations to the leaders and citizens of Ayden on a job well done!