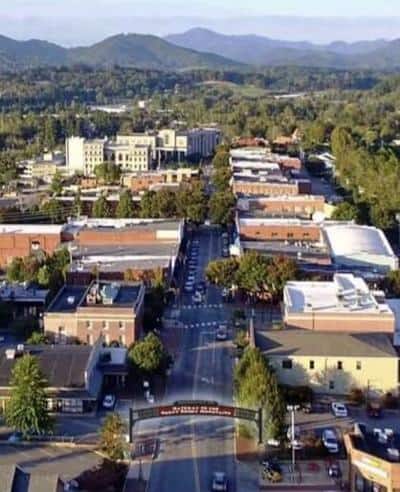 Historic Arch to soar above Waynesville Main Street once again
The historic arch that vaulted over Main Street in downtown Waynesville for four decades is returning. The arch dates to 1933, erected to identify Waynesville's connection to the Great Smoky Mountains National Park. The national park was brand-new at the time and a game changer for tourism in the mountains, becoming the most visited national park in the country. The arch came down in 1972 due to disrepair, and community leaders have dreamed of bringing it back ever since — something that has taken 50 years to achieve.
Plans have been quietly coming together for months — from design and placement to seeking permission from the NCDOT. The original arch vaulted above Main Street at the intersection of Depot Street. However, that location wasn't suitable due to the traffic signal and visibility issues. Instead, the arch will find a new home at the other end of Main Street before reaching Exxon and First Baptist. The arch will complement the picturesque scene of downtown with the distant mountain ranges in the background that comes into view when cresting over the hill at the Exxon. The arch will be 60 feet wide and 26 feet tall.
J. M. Teague Engineering & Planning worked behind the scenes on behalf of the Town of Waynesville to provide the North Carolina Department of Transportation (NCDOT) collaboration, communication, and research that provided the Town with the necessary information to apply for an encroachment permit for the archway. We helped get NCDOT's buy-in and provided due diligence that identified a path to success among several potential pitfalls.
Becky Johnson wrote the article at The Mountaineer, published in January 2023. Click below to learn more.
Year of the Trail for March
"Spring into Action"
This beautiful weather feels like spring and is the perfect time to "Spring into Action." This is a call to get out on a trail, be active, and support local trail initiatives. The trails that make North Carolina the Great Trails State don't build themselves; dozens of hard-working nonprofits, local, state, and federal government partners, industry partners, and thousands of volunteers plan, build, steward, and maintain them. Learn more about the Year of the Trail below.
Asheville's Fuddruckers demolished to make way for 186 Apartments.
In 2021, J. M. Teague Engineering and Planning provided the Traffic Impact Analysis for this expansion to build the 186-unit apartment complex. In March 2023, the old Asheville Fuddruckers was demolished to make way for this new development. The project, "120 Charlotte Street," will have 4,500 square feet of commercial/retail space, meeting a number of key city goals, including:
Encouraging responsible growth — by increasing the city's housing supply and locating housing density and new jobs in a locationally efficient area within an Innovation District, one of the plan's identified growth areas.
Making streets more walkable, comfortable, and connected — by supporting mobility and access through pedestrian and transit infrastructure improvements. 
Celebrating the unique identity of neighborhoods through creative placemaking and increasing and diversifying the housing supply — by providing appropriate infill development that includes housing, especially affordable housing." 
J. M. Teague Engineering and Planning is happy to have the opportunity to have a role in this growth. To learn more, please read Joel Burgess's article published in the Asheville Citizens Times, attached below. 
Women in Transportation (WTS)
To fulfill its mission of advancing the transportation industry and the professional women who lead it, WTS International gives members the necessary tools for success. WTS aims to attract, sustain, connect, and advance women's careers to strengthen the transportation industry. WTS International connects women to a network of 8,000+ transportation professionals through local, regional, and international communities, events, and training. Members receive access to tools to develop professionally, enhance leadership skills, and advance their careers. WTS International membership has a direct impact on the transportation industry.
Our very own, Candace Hladick, Transportation Planner and GIS Specialist, is the President of the Western NC Chapter of WTS International.
If you want more membership information, click the link below.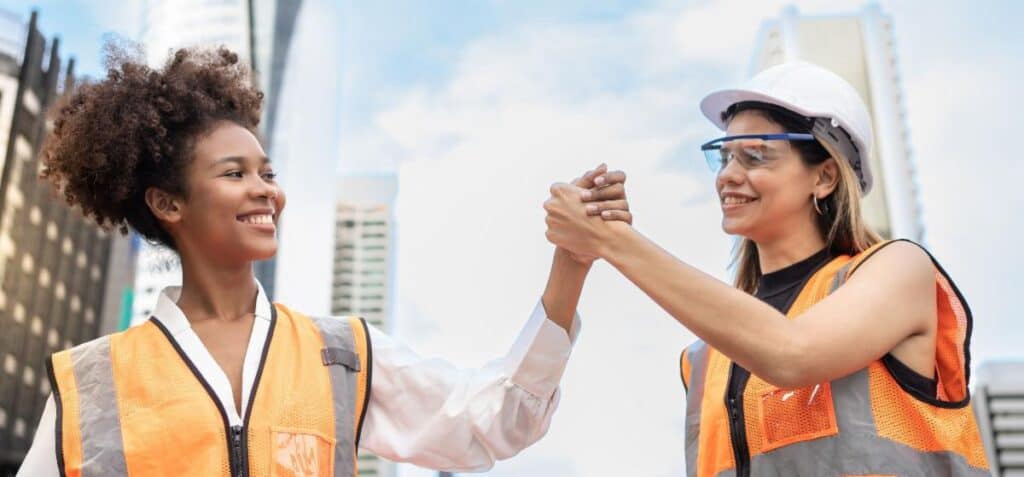 Women in Construction Week 2023: How Women Are Rising Up in a Male-Dominated Industry
J.M. Teague Engineering and Planning supports and celebrates women in construction and in engineering. Our founder, Mark Teague, says "Personally, I believe it is imperative to support education and community programs that challenge and encourage girls to explore science and math so that they can reach their fullest potential as adults. Opportunities and challenges should be available to everyone so they can strive for equity in careers and in life."
There are currently just under 1.3 million women in the construction industry in the U.S., which amounts to 10.9% of the total workforce. This is a 3.5% increase compared to the previous year. The construction industry remains vastly dominated by men, but as statistics show, women are rising in numbers, power, and recognition.
To celebrate Women in Construction Week 2023 (March 5-11) and this year's theme of "many paths, one mission," women who are at the forefront of the industry, spearheading the way for women to become more commonplace in all areas of this sector. Women in Construction Week is a way of bringing awareness and celebrating the role of women in the industry.
Adam Graham wrote this article at Fixr on February 22, 2023. Click below to learn more.
Work Zone Safety News!
Mark Blanton, our JMTE Work Zone Safety Instructor, is working on the upcoming schedule of classes.
If you are already on the JMTE Academy email list, you will be getting an email shortly with this schedule. If you are not on this email list, please click below to be added.
Check our website below for education and training opportunities