JMTE brings safety, expertise to any public event.
There's never been a more important time to consider traffic planning and safety as part of your special event planning. Many local governments are holding event organizers and operators responsible for smooth traffic flow by requiring temporary traffic control plans and more. Local law enforcement doesn't have time for set-up and maintenance around the event site. The success of your special events is a key to how your community presents itself to the world, and that means giving adequate attention to traffic control and public safety during your planning process. J.M. Teague Engineering and Planning can take care of all these details for you.
Introducing JMTE Event Operations and Logistics!
Whether it's an annual music festival, school event, parade or a 5K fundraising race, JMTE has the experience, expertise and strategic partnerships to make sure vehicles and people can move safely in and around your event. Our services include:
Temporary traffic control plans
Traffic management services and volunteer training
Event layout, including plans for ingress and egress, signage
Parking and people flow
Coordination and compliance with local governments and law enforcement
Event promotion, public relations, data collection
If you have additional questions or concerns related to your event, just ask. Our service options are customized to your event and budget. You can choose individual services or a total turnkey approach.
"What we did on our trip…" When it comes to staging a successful festival or event, there's nothing worse than discovering you've forgotten an important detail as people begin to arrive. Too often that important detail is proper planning for traffic control and public safety.Special events are great ways to help visitors and residents enjoy your community. The challenge is that events affect not only travelers on the main roads into your town, but normal traffic and those providing support services to the event, who use the adjoining roadways. The impact can be especially noticeable for events located in rural settings because rural communities often have a limited capacity, alternative routes may not exist, access to the event site is restricted, and public services are not conveniently located to assist with traffic management or providing support services that event patrons may need immediately. JMTE has a long history of successful planning for events large and small.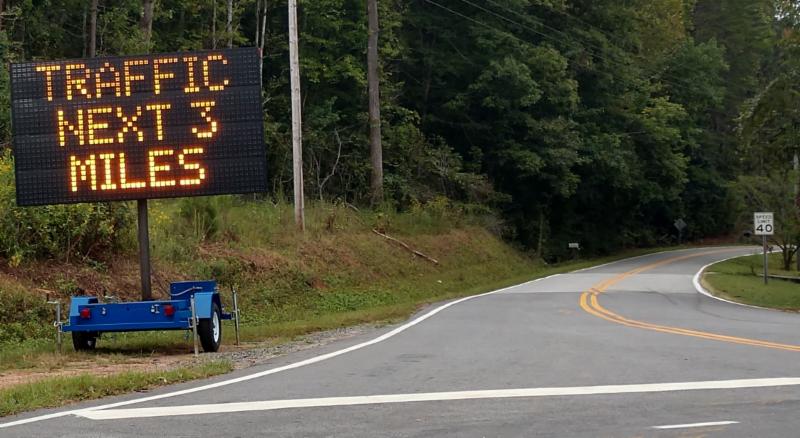 Don't let stagnant traffic flow be the main story of your event. We excel at providing traffic management services and we have partnerships with reliable firms that offer equipment rental, delivery and installation, traffic counts and all the marketing services you'll need for a memorable event. For more information, contact Dave Gildersleeve, JMTE Business Developer, 828.456.8383 or daveg@jmteagueengineering.com .
2018 World Equestrian Games
JMTE provided operational plan design services for the 2018 FEI World Equestrian Games, one of the biggest events on the global sporting calendar. JMTE also worked with the Tryon International Equestrian Center (TIEC) in Mill Springs, NC to develop operational plans and transportation maps for the safe, efficient movement of horses, people, and motorized vehicles throughout the venue. We provided data collection and geospatial mapping of trails, and served as a liaison with NCDOT.
The Color Run, also known as the Happiest 5K on the Planet, is a unique event that celebrates healthiness, happiness, and individuality. Now the largest running series in the world, The Color Run has been experienced by over 7 million runners worldwide in more than 40 countries.
Commercial, film sets
throughout WNC
We've provided onsite traffic control services for major films such as Three Billboards Outside Ebbing, Missouri; and commercials for Porsche and Street Outlaws.
                                                                                     Folkmoot Festival's International Day 2018
JMTE designed an updated event layout plan for the Folkmoot Festival's International Day in downtown Waynesville, NC. This annual event is a part of a multi-week folk dance festival that brings in international performers from around the world. JMTE developed an updated event layout to accommodate 100 vendor tents and an anticipated 25,000 visitors. The overall setup design included locations for tents, electrical outlets, bathroom facilities and nearby parking areas. We also met with Folkmoot staff to review safety best practices, set-up and breakdown of the event.
Your event and your community should be memorable for all the reasons you want them to be, not because something occurs that you weren't prepared to handle. With JMTE handling traffic planning an more, you are making a commitment to your vendors and attendees for an event that is safe and fun for everyone. Give us a call today! We look forward to assisting you.