Walking and pedaling our nation back to health.
Remember your grandparents' "Back in my day…" stories about how they had to walk everywhere? 10 miles to school every day … uphill both ways … in six feet of snow?
The Centers for Disease Control may not be advocating for a return to that kind of walking community, but they are promoting the health benefits of a return to walkable and bikeable communities as a means of helping address chronic disease among youth and adults. JMTE Staffers Andrew Bowen, Kenny Armstrong and Anna Sexton were on hand to hear about it at the NC Bike and Walk Summit held this past October in Raleigh.
The CDC argues that the lack of daily physical activity is taking a tremendous toll on most everyone's health. Nearly half of adults live with chronic diseases such as heart disease, cancer, stroke and diabetes. The US spends more than 80 percent of health care dollars on people with chronic medical conditions. The CDC believes that increased physical activity could reduce the risk of at least 20 chronic diseases and conditions and provide effective treatment of many of these conditions.
Walking and biking, Rose stated, are a "wonder drug" that could turn the tide on chronic disease, but we make it very hard to achieve by designing communities in a way that makes virtually everything accessible by car, while making it difficult, even dangerous, to walk and bike.
For example, Rose cited the story of an 82-year-old woman in Los Angeles who received a $114 ticket for taking too long to walk across the street. In addition, roadways, sidewalks and crosswalks are often designed in ways that prohibit walking and biking. By contrast, many communities now offer a drive-thru for everything from groceries and medications to weddings, funerals and child support payments, so patrons don't even park their cars and walk into a building.
The NC Department of Health and Human Services recently received CDC funding to support strategies outlined in Active People, Health Nation, including collaborating with partners to connect activity friendly routes to everyday destinations to increase physical activity.
 "The CDC and NCDOT have recognized that walking and biking can dramatically affect our country's physical and mental health, but the built environment often fails to support those activities," said JMTE Transportation Planner Kenny Armstrong. "However, 80 percent of US adults surveyed favor safer street design for walking, even if it means drivers have to slow down, and federal and state agencies are beginning to realize that these efforts are pretty palatable to most people."
As the NCDOT has noted, roadway standards are starting to change to reflect strategies that support activity-friendly routes to everyday destinations and take traffic fatalities seriously. JMTE is proud to have helped numerous communities develop bicycle and pedestrian plans, Complete Streets policies, Safe Schools plans and more. We look forward to seeing this trend continue.
What's your favorite "in my day" story?
Speaking of "In my day…" stories, the holiday season is often a great time to hear the familiar mix of truisms and tall tales again. So we thought it would be fun to share some – but only if you share some, too! Here's a few to get the ball rolling:
 Back in my day, we only had one phone for everybody. If you wanted to talk to your boy/girlfriend, you usually had to talk to a parent first;
When I was your age, Amazon was just a river;
Old – In my day, if you wanted to watch a movie again you had to rewind; Even older – In my day, if you wanted to watch a movie again you had to wait for it to come on network television with all the bad words and scenes cut out; Older than dirt – In my day, we didn't have TV or movies, we had to make up our own entertainment;
When I was young, "unfriend" wasn't a word;
In my day, we didn't have virtual reality. If a one-eyed, razorback barbarian warrior was chasing you with an axe, you just had to hope you could outrun him.
Okay, that's enough from us. Now it's your turn. If you've got a fun "back in my day…" story, share it with us on 
our Facebook page
. And have a wonderful, safe holiday season!
JMTE out and about, doing our thing
Talking hurricanes, horses and traffic control
JMTE was honored to be selected to present "Planning for the World To Visit" at the annual meeting of the NC Section of the Institute of Transportation Engineers (NCSITE). Our presentation centered on our experience assisting the Tryon International Equestrian Center (TIEC) in preparing for the 2018 World Equestrian Games this past July. Despite the effects of Hurricane Florence and a planning period that was shortened by years, we had a wonderful experience working with the folks at TIEC and thoroughly enjoyed the traffic planning challenges that came up most every week. Our presenters, pictured at left, were Mark Teague, JMTE owner and principal engineer, and Candace Hladick, Planning Technician, CAD/GIS and Permitting Specialist, who handled most of the work at TIEC.
Apple Harvest Festival 2018
One of our favorite fall activities is helping the Haywood County Chamber of Commerce set up the annual Apple Harvest Festival, held in downtown Waynesville. We put on our NCDOT-approved reflective vests, review the list of vendors and their requirements, and mark off the vendor spaces so everything runs smoothly on festival day. Great fun was had by all!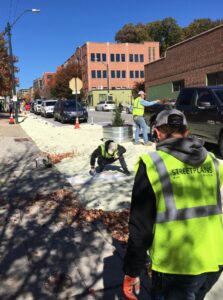 People-powered, car-free fun in Asheville
Transportation Planner Kenny Armstrong recently volunteered to help set up and participate in Open Streets 2018 in Asheville, a day-long event to promote a people-powered street party and field day on car-free streets. Volunteers painted a parking-protected bike lane, bulbouts, crosswalks, and a lovely mural (See photo at left). They also installed landscaping elements that are easily removable. The vehicular travel lanes were narrowed, but not by much, and they retained most of the on-street parking. Kenny even got to ride an electric bicycle! Event organizers included Tony Garcia, of Tactical Urbanism and Richie Rozelle of Land of Sky Regional Council, as well as some members of the Asheville City Council and Asheville on Bikes.
If you're traveling, be safe - and watchful!
In partnership with eight other states and in direct support of the 
Vision Zero
 philosophy, the NC Highway Patrol (SHP) will once again be participating in the I-40 Thanksgiving Challenge. Last year, law enforcement agencies from Tennessee, Arkansas, Oklahoma, Texas, New Mexico, Arizona, California and North Carolina teamed up last Thanksgiving travel period to push for a zero fatality rate along the 2,555 miles of I-40.
This initiative involves stationing troopers every 20 miles on I-40 for the most heavily traveled periods during the Thanksgiving holiday. The constant visibility from state to state will hopefully create a safe driving environment for all motorists and most importantly save lives and prevent injuries.
Last year, SHP investigated 1,923 collisions during the Thanksgiving Holiday time period. Among those collisions, 453 involved injuries and 17 resulted in death. The Vision Zero focus is to combat needless collisions in hopes of reaching a zero fatality rate across the state.
If you have a roadway emergency, many state highway patrol offices can be reached by dialing *HP (*47) on your cell phone. Be safe out there!