The J.M. Teague Engineering and Planning team is thankful for the friends and family that support us and the work we do.  2019 marks the eve of our 10th Anniversary and, just like any other year, we've been busy!
During this past year, out team has traveled many miles working to improve how people interact with their communities.  From Myrtle Beach to Pittsburg, Savannah to Virginia, Atlanta to Lewisburg and the North Carolina Coast to Columbia, Tennessee; we are proud to say our work has reach so many special places.
In 2019, we completed 125 documents, reports, and plans including:
Parking Study
Columbia, Tennessee
Wayfinding Signage Implementation
Sumter, South Carolina
Traffic Study
Fort Stewart, Georgia
Complete Streets Policy Update
High Point, North Carolina
J.M. Teague Work Zone Safety Academy
North Carolina
ADA Transition Plan
Waynesville, North Carolina
Comprehensive Bicycle & Pedestrian Plan
Spindale, North Carolina
Traffic Impact Analyses
Traffic Calming Studies
Forensic Engineering Cases
Festival & Event Mapping
Signal Designs
We look forward to completing a wide range of projects for many different communities in 2020, helping to positively shape transportation decisions all over the southeast. Our clients deserve the very best planning and engineering and we deliver!
Happy New Year from J.M. Teague Engineering & Planning!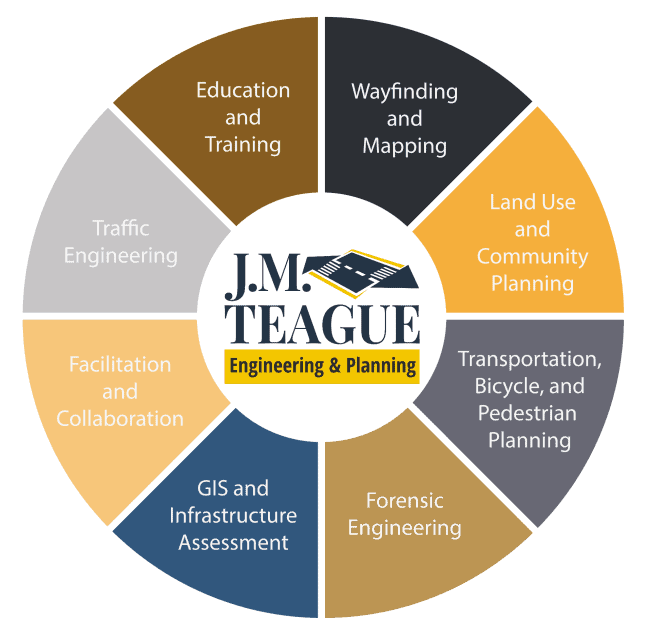 JMTE at a Glance
Founded in 2010, J.M. Teague Engineering & Planning provides more than 20 transportation and traffic services across eight distinct business areas: Forensic Engineering, Multimodal Transportation Planning, Land Use & Community Planning, Wayfinding & Mapping, Education & Training, Facilitation & Collaboration, Traffic Engineering, and GIS Infrastructure Assessment. We are licensed to practice engineering in NC, SC, GA, KY, TN, and AL; and are prequalified by NCDOT to provide more than 20 planning, technician, and transportation engineering services.